Dining in a Kouri Restaurant
For mouthwatering local and international favorites, dine at our very own Italian-themed "REST LE SACRO". Start the day with some juice and a refreshing cup of tea or coffee, as part of a healthy breakfast prepared by our chef.
At your next meal, perhaps you will try an Okinawan delicacy, Kouri Island Food – or choose between authentic Italian specialties made with fresh local ingredients. At "REST LE SACRO", there is always another innovative dish to try.
To satisfy all tastes, we have a range of comfort foods always available. We also serve the restaurant's own signature pizza, bringing a true taste of Italy to your holiday experience.
Bring each meal to a splendid conclusion with a rich dessert, or select a bottle of wine or Okinawan awamori to celebrate another day in paradise. With every dish creatively prepared and beautifully presented, a visit to "REST LE SACRO" is a true pleasure for the senses.
Our meals are served gracefully in a relaxed environment, either within the Okinawa restaurant itself, or out in the open air. Both seating areas offer majestic views over the land and sea, showing Kouri Island in all its grandeur. Alternatively, guests may decide on poolside service for casual enjoyment, or room service for a fine dining experience in the privacy of your room or villa.
With everything from snacks and aperitifs, to a true feast for sophisticated travelers, our dining facilities can satisfy couples, families, and groups of almost any size.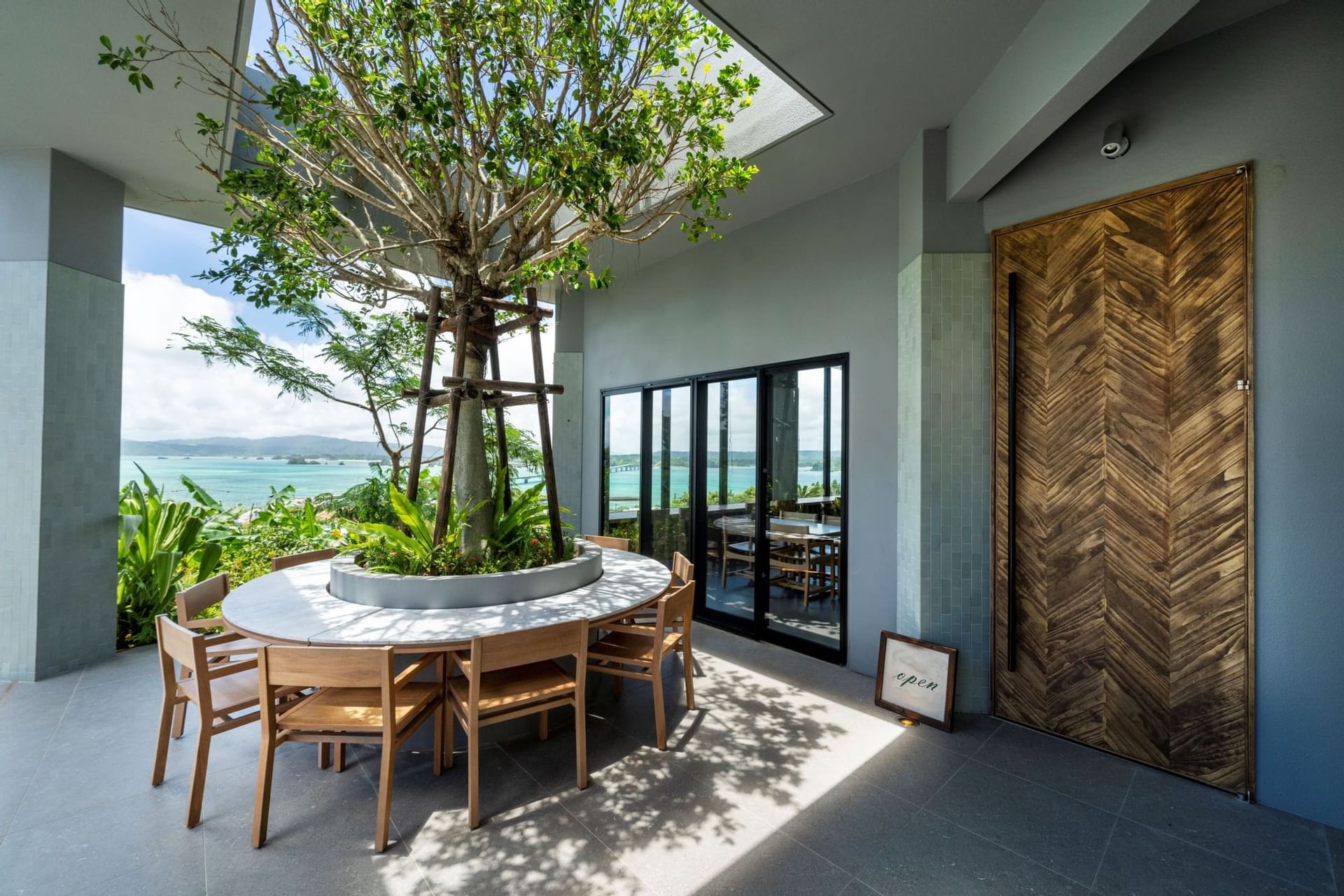 REST LE SACRO
Our in-house restaurant serves up innovative Italian cuisine made with local ingredients, for a delicious selection of beautiful, healthy, and nutritious meals.
Start each day with a wholesome breakfast to keep your body nicely balanced – and return later for tasty pizzas made in a real brick oven. With indoor and outdoor seating areas, as well as a lovely barbecue area, "REST LE SACRO" provides the perfect Kouri Island dining experience.
DAILY HOURS OF OPERATION
Lunch 12:00 p.m. – 14:30 p.m. (last order at 14:00 p.m.)
Dinner 17:00 p.m. – 22:00 p.m. (last order Drink at 21:30 p.m.)
About Reservation, Inquiry : 0980-56-5633 Restaurant "REST LE SACRO":